In Today's article let's take a look at how much Computer Technology has affected people and the main question being does computer technology affect the way people migrate around the world?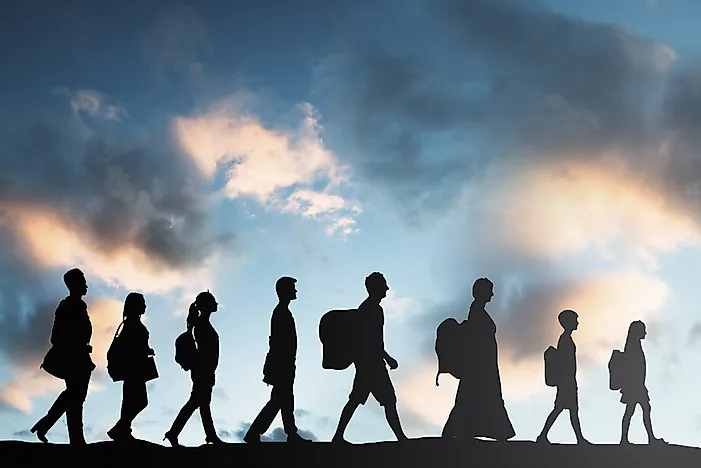 Introduction
The Future is NOW! You always hear this, be it in the Tech domain or when Tony Stark shows his new futuristic gear to the world, It's a good feeling to hear it right? But we always forget how far we have come and how even the smallest device can affect the world, the people.
There is always new things developing in the backyard of Mr. Science, its always something amazing when there is a generation leap. People get hooked on this amazingness and get affected. Whether it inspires somebody to be the master at videogames or makes somebody a computer hacker. It has changed the generation of teenagers/young adults rapidly. It has made some people more greedy, ignorant, and lazy. But some people get inspired by Mr. Science's backyard and innovate new things.
Link Between Migration And Technology?
I would say technology is pretty much advanced now, we can render very realistic scenes on our personal computer in real-time, or we can order something and it just arrives at our doorstep in some days. In this same way we can use apps to share information in real-time, including to support clandestine border crossings, together with the consolidation of social media platforms to connect geographically dispersed groups with common interests.
This has raised questions concerning the extent to which technology has been used to support irregular migration, as well as to enable migrants to avoid abusive migrant smugglers. This has become a intense topic of interest.
There has also been a strong focus on the use of migrant technology, including how migrants use ICT (Information Communications Technology) to adapt to new communities, new workplaces and new cultures, while maintaining links to their families and societies back home. This has involved apps developed by migrants themselves, thanks to the access of advanced technology at a very low cost. We are starting to see researchers/migrants using sophisticated algorithms based on decades of data, to allocate and place refugees in communities which they are statistically most likely to integrate successfully.
The most serious problem with migration and technology is that newer forms of social media activism are increasingly allowing disruptors to set the migration agenda, based on fear and lies, in order to gain power.
Staying Connected
As recently as 2010, African refugees in Australia reported relying on ordinary postal services (Hand written letters) to communicate with families back home.
Computer Technology have changed that by:
Enabling lower cost and faster remittances to provide financial support to families
Continuing emotional support to (and from) family members via messaging and Voice over Internet Protocol ('VoIP') software
Steady flows of news and cultural information from their 'home' country
The potential for extensive political participation in both country of origin and the diaspora.
Facilitating Integration
Mobile Phones and Computer technology are very important tool for migrants nowadays, especially for those who are settling into new country and societies, allowing them to access a variety of services, from housing, equipment, local health and transport to schools, childcare, cultural or religious events.
This technology is more and more important and a necessary thing when it comes to overwhelming language barriers. Language learning app and language translation app are often used by the migrants and by the NGOs that give support to migrants.
Social media platform enable migrants from the same community and same origin to communicate to each other and help each other when in need. It also helps them to form migrant networks in the same destination.
Conclusion
It is no exaggeration to say that technological revolutions have already altered the daily lives of people all across the world in just the first few years of the twenty-first century.
With continuous technological advancements, virtually every facet of life on Earth as we know it will be impacted. Changes in technology will undoubtedly have a significant impact on the immigration market.
This will have a good impact on the ease of travel and immigration to new countries for those groups of people seeking a better country and a more hopeful existence in order to achieve prosperity and realize their ambitions. Global travel should become more effective, less expensive, and even safer as a result of smarter and more advanced technology pertaining to international screening and processing of immigrants, so that immigrants with a wealth of experience, ideas, and abilities will be able to positively shape change in the world many years from now.
Also Read : https://www.weforum.org/agenda/2018/12/social-media-is-casting-a-dark-shadow-over-migration/